SALES | HIRE | SERVICING | REPAIR
Combilift is the World's first IC engine-powered all-wheel-drive multidirectional forklift. It is actually a combination of forklift and side-loader, and is highly manoeuvrable, very safe, very cost effective and supremely efficient. The Combilift removes the need for both a counterbalance and a sideloader by combining both machines in one simple and easy to use vehicle.
The combilift is designed to handle long-loads safely, by eliminating the need to travel with loads lifted high, the units provide greater stability.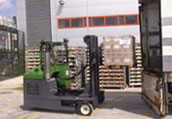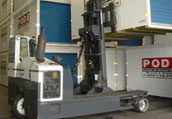 Using patented, leading edge technology, Combilift forklifts are equipped with a unique 4-way steering system that allows the units to travel sideways with long loads. This system gives the user multi-directional capability, delivering possible space savings of up to 100%.